One bright 6.1" Dolby Vision OLED screen
The Apple iPhone 13 has a 6.1-inch Super Retina XDR OLED screen, the same size as the iPhone 12's. It supports HDR10 and Dolby Vision but features a few updates like a reduced notch and brighter panel. Sadly, the 120Hz ProMotion mode is exclusive to the iPhone 13 Pro and Pro Max.
The OLED panel has 1,170 x 2,532 pixels or 460ppi. It is protected with a flat Ceramic Shield glass by Corning.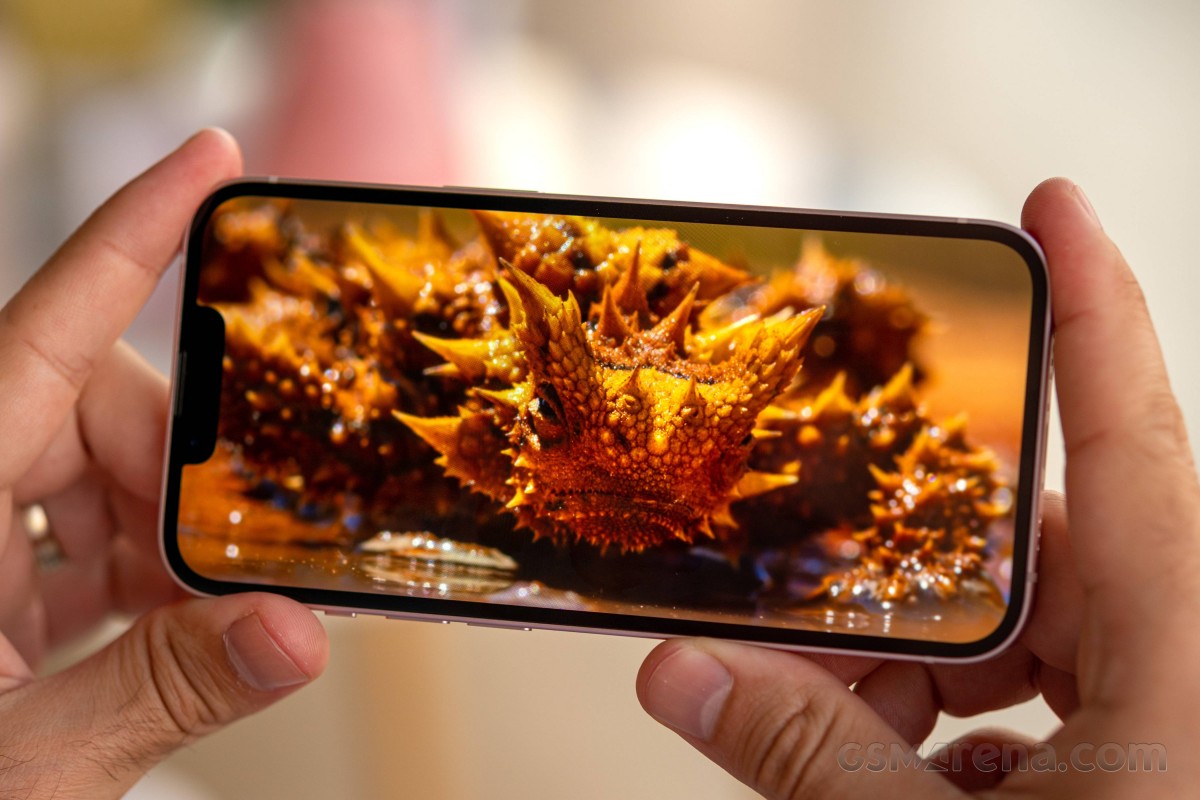 So, the iPhone 13 display supports the standard 60Hz refresh rate, while the touch sensors should be working with 120Hz sampling. The panel supports HDR10 and Dolby Vision, it should offer 800nits of typical maximum brightness and 1,200 nits of peak brightness when watching HDR content.
The iPhone 13 screen also supports True Tone adjustments, Wide Color, and it has the Haptic Touch feature provided by a powerful Taptic Engine.
We've completed our usual display measurements, and we captured 802nits of maximum brightness. The minimum brightness is impressively low at 1.7 nits.
There is no Auto Brightness boost on any of the iPhones, but that's understandable - Apple has always allowed its users to use the maximum brightness if they ever felt they needed it.
Display test
100% brightness
Black,cd/m2
White,cd/m2
Contrast ratio
Apple iPhone 13
0
802
∞
Apple iPhone 12
0
639
∞
Apple iPhone 12 Pro
0
802
∞
Samsung Galaxy S21 5G
0
416
∞
Samsung Galaxy S21 5G (Max Auto)
0
856
∞
Asus Zenfone 8
0
440
∞
Asus Zenfone 8 (Max Auto)
0
800
∞
Realme GT 5G
0
443
∞
Realme GT 5G (Max Auto)
0
650
∞
Realme GT Explorer Master
0
504
∞
Realme GT Explorer Master (Max Auto)
0
805
∞
Apple iPhone 11 Pro
0
805
∞
Apple iPhone 11
0.428
644
1505:1
Apple iPhone X
0
679
∞
The iPhone 13 panel has outstanding color accuracy - we measured an average deltaE of 1.6 against sRGB targets. The panel fully supports DCI-P3, and it automatically switches to this gamma when DCI-P3 content is sent to the screen.
Apple iPhone 13's screen does something that only few screens do - it maintains the same perfect color accuracy across all brightness levels, even at the lowest point of 1.9 nits!
The iPhone 13's biggest screen updates are the smaller notch and the higher brightness. The reduction of the cutout isn't as major as some have hoped, but it's the start of a process that will eventually lead to its extinction. And it was about time!
Battery life
The Apple iPhone 13 packs a 3,240mAh battery - a very welcome 15% upgrade over the iPhone 12. Apple promises at least 2 extra hours of video playback and up to 4 extra hours of video streaming time compared to the iPhone 12.
And we did get better results! Compared to the iPhone 12, the iPhone 13 clocked 3 additional hours on web browsing and nearly 4 more hours on our video test. The uninspiring call and standby performances are shared across the iPhones and hence the lower-than-expected endurance rating of 89 hours.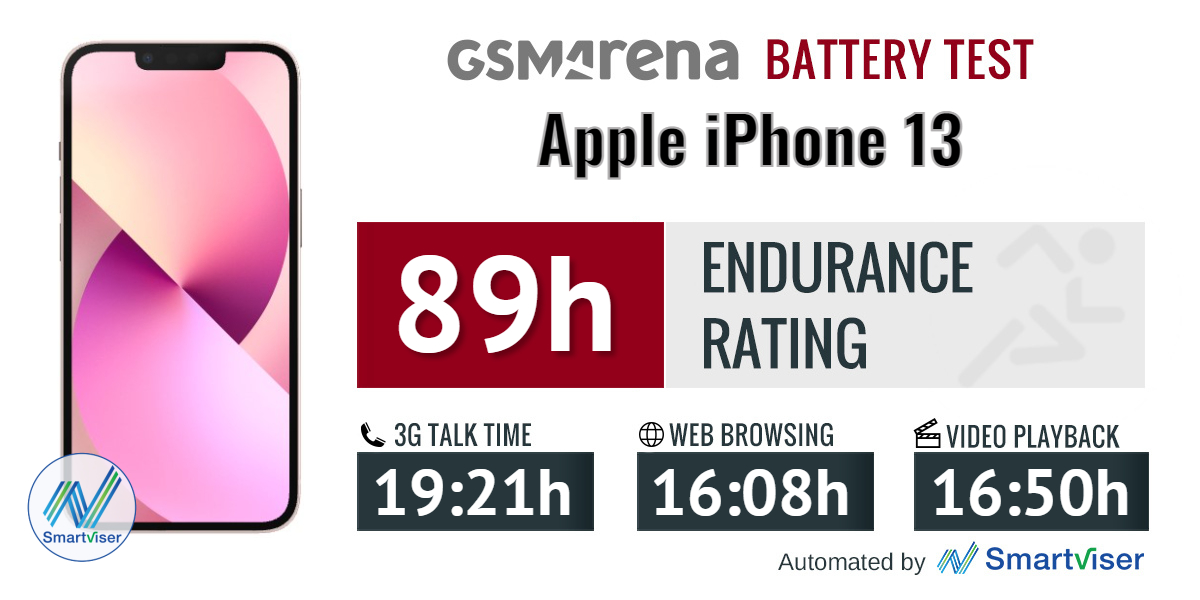 The endurance rating denotes how long the battery charge will last you if you use the device for an hour of telephony, web browsing, and video playback daily. More details can be found here.
To adjust the endurance rating formula to match your own usage patterns check out our all-time battery test results chart where you can also find all phones we've tested.
Charging speed
Apple's charging hasn't changed since the iPhone 12 series. Apple's official specs are vague about the maximum charging power the iPhone 13 phones can achieve with USB-PD powered adapters, but the tests show the iPhone 13's fast charging maxes out at 23W. Apple is offering 20W USB-PD chargers as an extra purchase. It is a standard USB-PD charger with USB-C port, so you could get any third-party USB-PD charger instead - there are more compact, as well as cheaper options out there.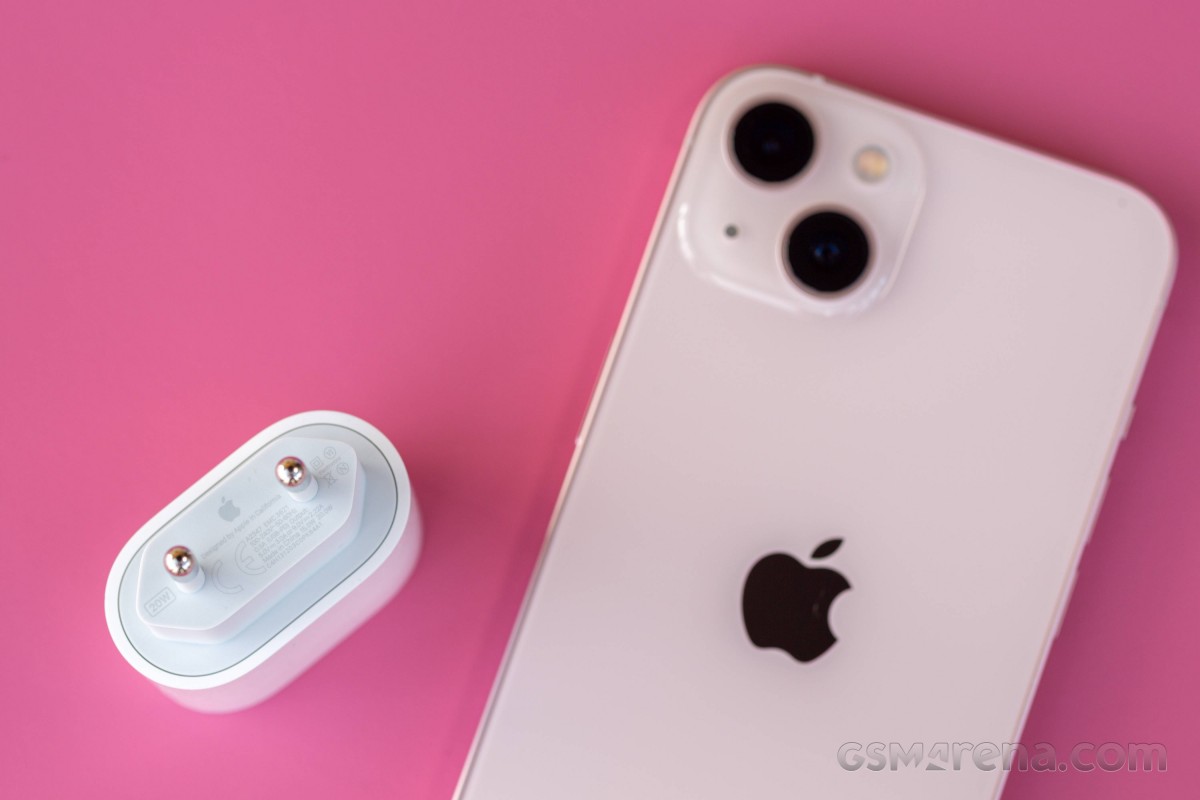 The iPhone 13 also supports fast wireless charging. To achieve the maximum of 15W, you need to use Apple's MagSafe charger, otherwise, any Qi-compatible would do for slow 5W-7W charging.
So, if you plug the iPhone 13 in Apple's 20W charger, it will refill 54% of its dead battery in half an hour. If you hook it on a MagSafe charger - then you will get 32% in 30 minutes.
30min charging test (from 0%)
Higher is better
Realme GT 5G (65W)
87%
Asus Zenfone 8
60%
Apple iPhone 12
58%
Samsung Galaxy S21 5G (25W PD)
55%
Apple iPhone 13
54%
Samsung Galaxy S21 5G (18W QC3.0)
40%
Apple iPhone 13 (MagSafe)
32%
Apple iPhone 12/Pro (MagSafe)
30%
A full charge on a cable requires 106 minutes, which is a bit absurd as the iPhone 13 reaches 80% in 50 minutes, and the last 20% chage require additional 56 minutes to top off!
A full charge on the wireless MagSafe charger takes 2 hours 19 minutes - that's 41 minutes faster than last year. Nice!
Time to full charge (from 0%)
Lower is better
Realme GT 5G (65W)
0:39h
Samsung Galaxy S21 5G (25W PD)
1:13h
Samsung Galaxy S21 5G (18W QC3.0)
1:25h
Asus Zenfone 8
1:28h
Apple iPhone 12
1:30h
Apple iPhone 13
1:46h
Apple iPhone 13 (MagSafe)
2:19h
Apple iPhone 12/Pro (MagSafe)
3:00h
Speaker loudness and quality
The iPhone 13 offers the same powerful speakers as the iPhone 12 smartphones. The first speaker is inside the notch and also acts as an earpiece when necessary, while the other one is at the bottom next to the Lightning port.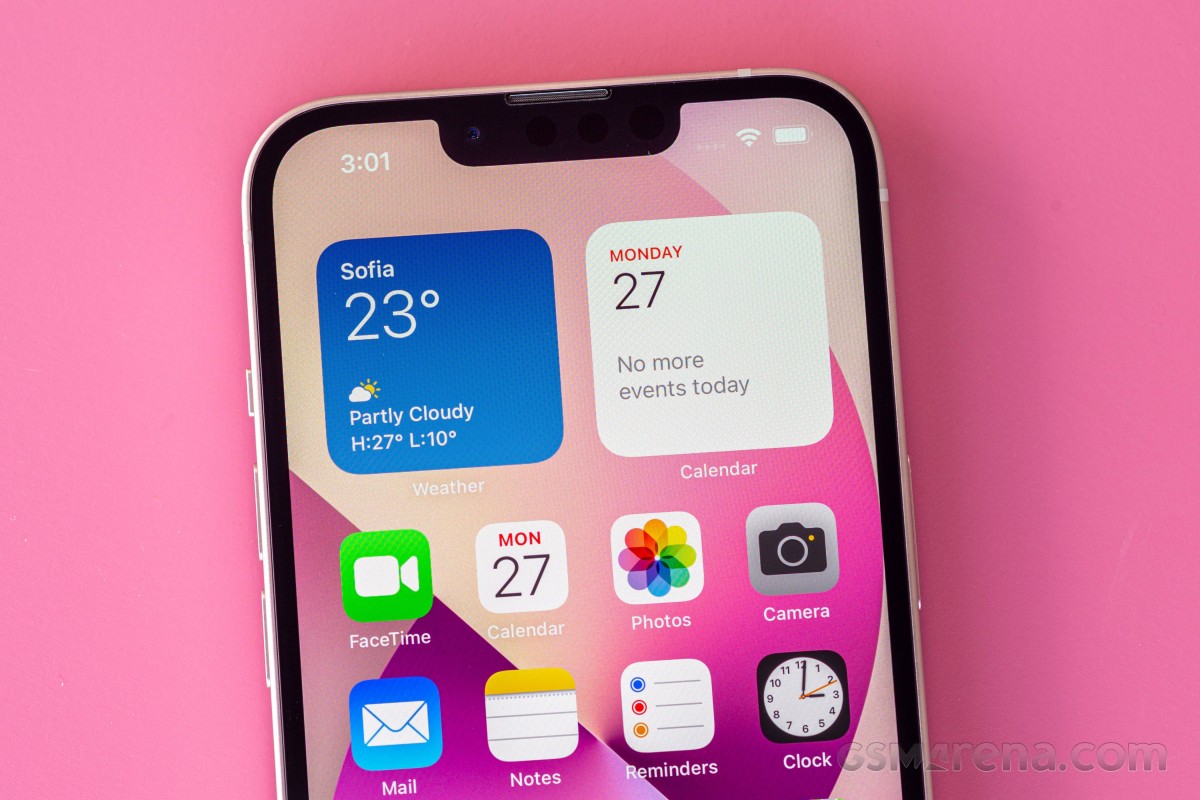 The speakers support spatial audio and Dolby Atmos, and we know we've said this before, but the output sounds exactly as promised - less directional and more spatial compared to other phones.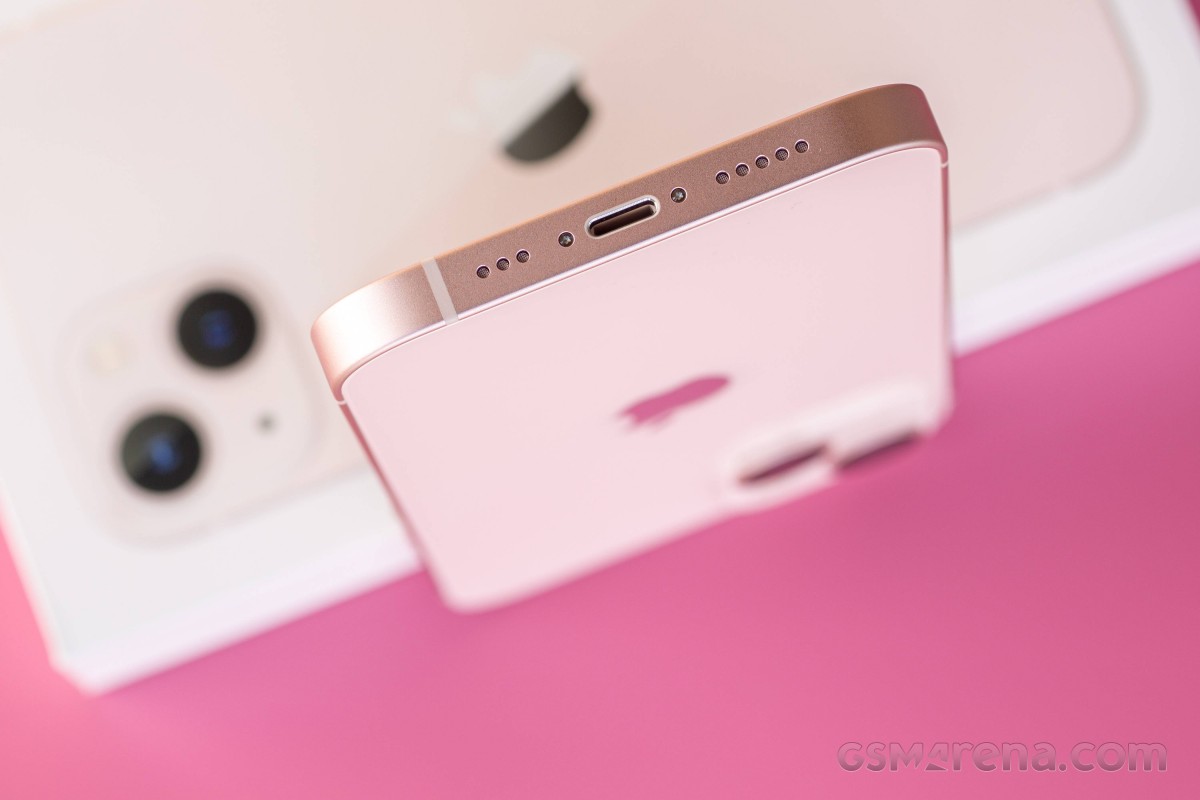 The iPhone 13 scored yet another Very Good mark for Apple, and we have to admire this consistency.
The audio quality is expectedly amazing - there is nice bass, the mid-tones are lovely, and the high-notes are superb as well. Indeed, the iPhone 13 has one of the best stereo speakers a smartphone can offer right now.
Use the Playback controls to listen to the phone sample recordings (best use headphones). We measure the average loudness of the speakers in LUFS. A lower absolute value means a louder sound. A look at the frequency response chart will tell you how far off the ideal "0db" flat line is the reproduction of the bass, treble, and mid frequencies. You can add more phones to compare how they differ. The scores and ratings are not comparable with our older loudspeaker test. Learn more about how we test here.