New or expanded apps and services
The App Clips service is a major part of iOS 14 even though we are yet to see it in action. In the upcoming weeks and months, we will be seeing many popular apps adding support of App Clips.
An App Clip is a pop-up window where you can use a small part of an app that you don't have installed on your phone without going to the App Store and downloading it. Basically, iOS 14 downloads this "clip" for you in real-time, you use the function, and then it goes away.
For example - you browse burgers in your browser, you see a place with nice burgers, you tap on a burger you want to order. A small pop-up window appears of, say, Foodpanda's app where you can order the said burger without installing their app and making a proper registration. Same goes for taxis, bike, or scooter rentals, among others.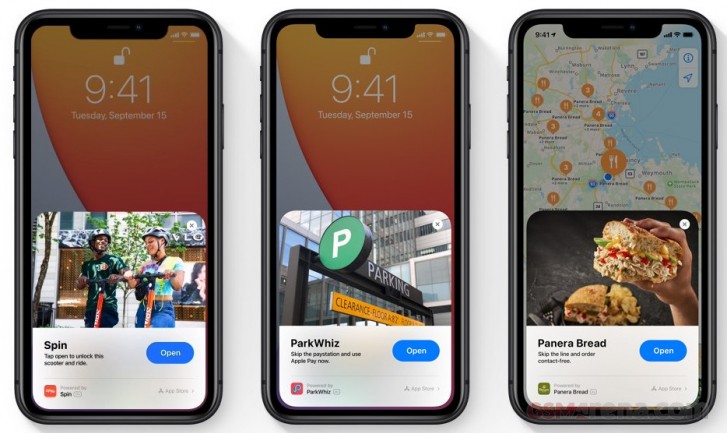 The Tap on the back is a new accessibility shortcut. It recognizes double and triple tap on the back of the phone, and you can assign whatever you like. We chose 'Take a screenshot' and 'Control Center', but it is really up to you. Overall, it has to be one of our favorite features in iOS14.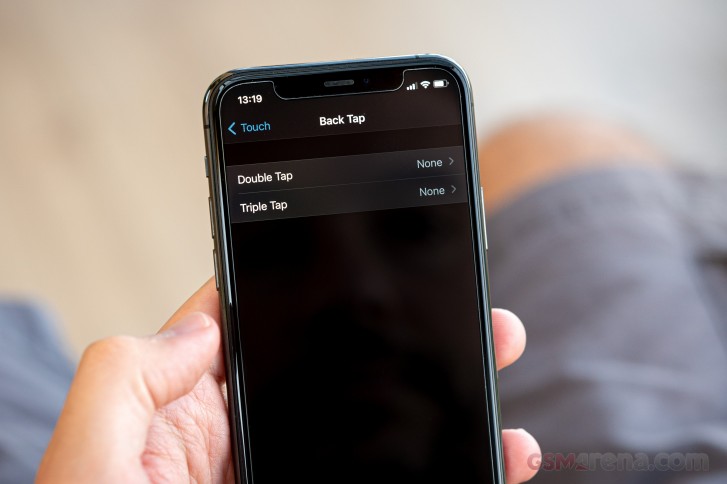 The Phone app is still the same but receiving a call while your phone is unlocked has become a much more unintrusive thing with the new compact UI.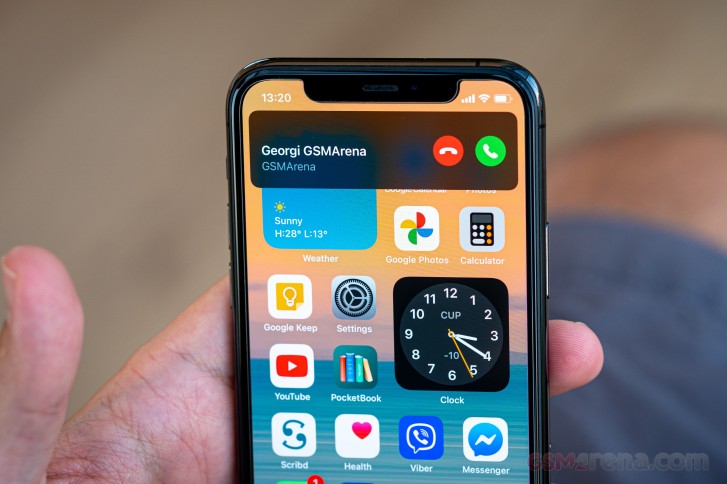 Instead of pausing everything you were doing and throwing you the black call screen, now you get a small pop-up with Green and Red receivers and the caller ID. Nothing pauses, the screen doesn't change. Well, that took ages to arrive, but we're glad it's finally here!
The Messages app has seen a few updates, too. You can now pin threads for quick access on top of the other messages.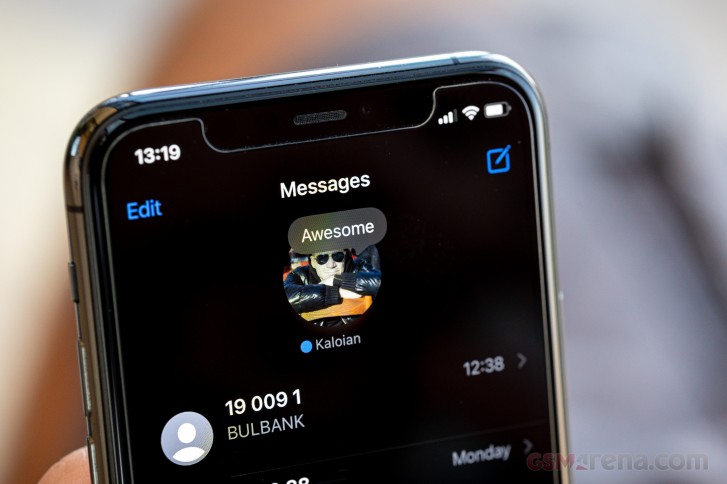 The app also supports inline replies which can turn any message in a group chat into a sub-thread of its own.
Emoji search is finally available, too, and you will no longer scroll through hundreds of tiny emojis just to find the right one.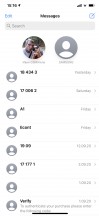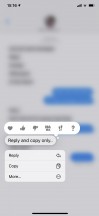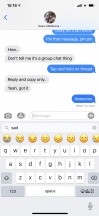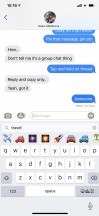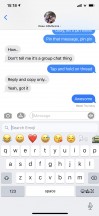 Messages with Pinned messages • Threaded reply • Emoji search
The Health app now offers a new feature called Sleep mode. It's more like enhanced Do Not Disturb mode that combines the DND features with Wind Down, and finally - it sets the alarm for you. You choose your sleep target, and you get to configure the Do Not Disturb exceptions, the Wind Down time, and the locked apps.
If you have an Apple Watch or other smart accessory capable of sleep tracking (Xiaomi Mi Band 5 in our case), you will get detailed information about your sleep quality and sleep goals within the Sleep Mode part of the Health app.
Another new feature is the 4K playback support within the YouTube app. By default, it runs on 1080p and 720p, but you can choose 2160p from options, if that's your thing.
PiP or Picture-in-Picture mode is a very welcome and long-overdue feature in iOS. It does exactly what the name suggests - minimizes your currently playing video within a hovering pop-up over the iOS UI or other apps.
PiP is supported in Apple TV, Podcasts, Safari, FaceTime, iTunes, Home, YouTube, and any other third-party app that chooses to add support for it. And speaking of YouTube, PiP would work only if you are a paying YouTube Premium user.
Now, can we get PiP for Maps next, Apple? Pretty please?
Apple offers a brand-new Translate app, and it will try to make you ditch Google Translate. It supports conversation mode, which surely gives it an edge over Google's and should make seamless translation of conversations in a foreign language.
But at its launch, the Translate app supports a limited number of languages, although they are some of the most popular ones across the globe - English, French, German, Spanish, Portuguese, Italian, Chinese, Korean, Japanese, Arabic, and Russian.
You either write the text manually or tap the mic button and use the speech-to-text service.
The multimedia is handled by Apple's default apps - Photos, Music, TV - and they are mostly unchanged since their iOS 13 versions.
The Photos tab has four different views - Years, Months, Days, and All Photos. Days, Months, and Years tabs use what the AI considers as best pictures at a glance, and this way, all the clutter gets filtered - you won't see screenshots, notes, or even duplicates. When you scroll through your images in these three categories, all live photos and videos will play automatically (muted). Also, your best photos or videos will show in bigger thumbnails.
AI-powered search option and powerful photo and video edit modes are available, as usual.
The camera app has one minor but important change - you now have a proper Exposure control with the option to lock it as the default one until you reset it.
The Apple TV app is part of iOS 14, and it is your default video player local movies and shows you've added via iTunes. This is also the digital store for movies and TV shows, but it is also the place where you find the Apple TV+ streaming service.
Music has a new homescreen icon. It is the default player, and it relies heavily on Apple Music. But even if you decide not to use the streaming service, it can still do an excellent job if you have a few minutes to add your songs via iTunes. Realistically, adding music tracks via iTunes requires as few clicks as it would take to copy them via Windows Explorer so there is no overhead, but the requiring you to download and install iTunes in the first place can be offputting to Windows PC users.
Books is here for your documents, PDFS, and eBooks. Stocks and News are onboard. Safari is your default web browser, and it has a Download manager and some enhanced privacy options we will talk about in a minute.
Apple Maps will be bringing its new, enhanced mapping solution to the UK, Ireland, and Canada "later this year." It adds cycling directions, complete with elevation info, and a new "avoid stairs" option for New York, LA, San Francisco, Beijing, and Shanghai.
The new EV routing will factor necessary charging stops along the way.
Guides let you discover restaurants, popular attractions and explore recommendations from "respected brands".
The maps also show known speed cameras and red-light cameras.
Apple Pay is on board, of course, and Sign-in with Apple is pushed everywhere. You can use this to quickly sign into apps with your Apple account, authenticating with FaceID or TouchID (and with two-factor authentication included). Apple will send the app a unique random ID. If an app demands your email address, you can choose to give it your actual email, or a random one automatically created by Apple for you with built-in forwarding (and these throwaway emails are created on a per-app basis, so you can delete only one that's associated with a specific app if you choose to).