Android 14 will make the screen recording feature more privacy-friendly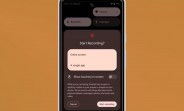 Android 14 beta is already available for some smartphones and Google recently pushed the second beta update, so people had time to play around with Google's upcoming OS and explore some new features. And it appears that the search giant is planning to make screen recording a more privacy-oriented feature.
Currently, the screen recording functionality on stock Android allows you to turn off sound recording and hide touches. The new screen recording will allow you to limit the recording to a single app or hide sensitive information like notifications as you are recording.
Mishaal Rahman shows how those two things work in his Twitter thread. As you tap on a single-app screen recording, a carousel with your recently opened apps shows up. The full list of apps is also available. Exiting the app while recording will turn the screen black until you return to the app, so none of your actions outside that app will be recorded.
And here's the resulting partial screen recording. The video doesn't show the status bar or any notifications I got. A useful feature to have when you need to screen record something to share with others! pic.twitter.com/mTDri6UOIh

— Mishaal Rahman (@MishaalRahman) May 19, 2023
Alternatively, you can choose to record everything but hide just the sensitive information like notifications. In fact, the whole status bar is hidden in the recording.
Some Android overlays already offer some privacy-related features to screen recording, such as Samsung's OneUI, but this is the first time we see this working natively on Android.
?
Generally, major versions are for new features. Minor versions are for bug fixing.
?
Leave it to Google and non-Samsung makers to lock simple new features behind a major OS upgrade version.
ADVERTISEMENT