AMD today announced its Ryzen Z1 series chipsets developed for the next generation of handheld gaming consoles. Ryzen Z1 and Ryzen Z1 Extreme are based on the 4nm Ryzen Zen 4 architecture and feature RDNA 3 GPUs. AMD shared the Ryzen Z1 and Z1 Extreme will be temporarily exclusive to Asus though other hardware manufacturers may join down the line.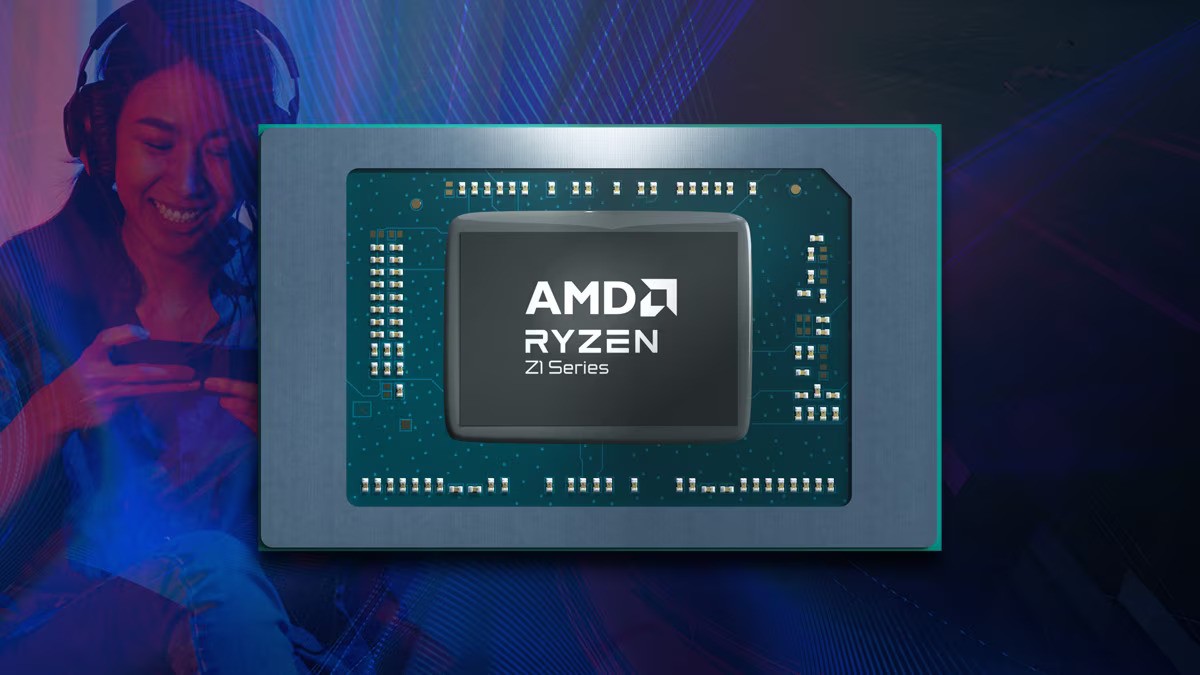 AMD Ryzen Z1 brings a six-core Zen 4 CPU with twelve threads while the GPU side is covered by four RDNA 3 cores. There's 22MB total cache on board. AMD claims the Ryzen Z1 chipset is capable of 2.8 teraflops graphics performance.
Ryzen Z1 Extreme features an eight-core Zen 4 CPU with sixteen threads and twelve RDNA 3 GPU cores with 24MB cache. Ryzen Z1 Extreme is rated at up to 8.6 teraflops graphics performance. As for actual numbers, AMD shared a graph of the Z1 and Z1 Extreme engineering samples with a few popular gaming titles ran at 1080p resolution and low settings.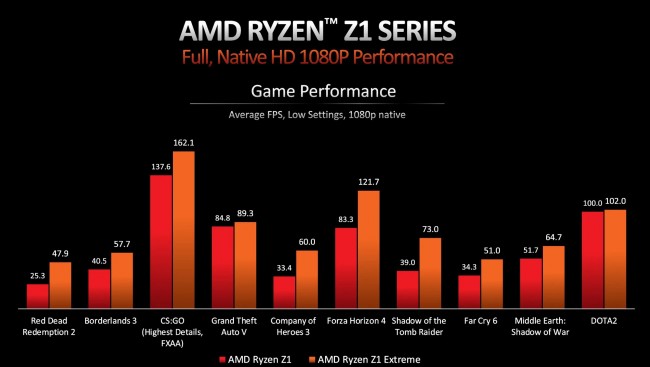 AMD Ryzen Z1 series performance benchmarks (via The Verge)
Both new chipsets also support USB 4 connectivity as well as LPDDR5 and LPDDR5X memory. The new chipsets will also bring AMD Radeon Super Resolution (RSR) upscaling, Radeon Chill, Radeon Image Sharpening and AMD Link.
The AMD press release also shared the Asus ROG Ally will be offered with both new Z1 chipsets. Asus will announce ROG Ally pricing and availability on May 11.
H
Man you are off 1. 7600 thats dedicated gpu has nothing to do with this topic, and can be used as Example only, these Apu has rdna3 igp known as 780M, 760M, 740m etc. 2. All ryzen cpu which doesnt have 4 before last number dont use Zen 4 ar...
i
I recommend going to Jarrod's Tech on YouTube. He's the first techtuber to review the first all-AMD Laptop of 2023: Asus TUF A16 with the Ryzen 7735 and the 7600s. The 7600s is the lowest end SKU of RDNA 3 and it's based on the same 6n...
i
How is that moving goalpost? He mentioned several times in his videos that they are beta drivers. He wasn't supposed to get that laptop in the first place, yet we are getting super early results. Things could be different when the first Z1E devi...
ADVERTISEMENT