Decent 5.5-inch display
The Acer Liquid Jade X2 is equipped with a 5.5-inch IPS display. Its 1,280x720 resolution is rather low by today's standards - the most obvious victim of cost cutting. That said, 267ppi is still okay, if you're not going to be reading tiny texts.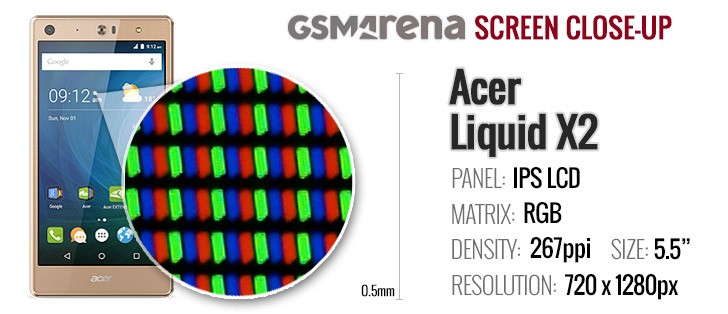 In the other areas we measure though, the screen is actually an okay performer. Its maximum brightness is good for the class, only bested by the Moto X Play. A touch brighter blacks still don't send contrast down the drain - in fact, it's on the good side of average. The minimum brightness is rather high though, at 13.5 nits.
Display test
100% brightness
Black, cd/m2
White, cd/m2
Contrast ratio
Acer Liquid X2
0.50
473
950
Asus Zenfone 2 ZE551ML
0.44
390
879
Asus Zenfone Selfie
0.36
333
928
Lenovo Vibe K4 Note
0.47
442
940
Oppo F1
0.46
408
897
Samsung Galaxy J7
0
358
∞
Samsung Galaxy J7 outdoor
0
500
∞
Motorola Moto X Play
0.41
620
1520
Xiaomi Redmi Note 3 (MediaTek)
0.42
403
953
Huawei Honor 5X
0.44
473
1073
OnePlus Two
0.30
399
1334
Meizu m3 note
0.52
425
816
Samsung Galaxy E7
0
517
∞
Color reproduction is decently accurate - the average DeltaE of 5.8 is only slightly off the flagship G5's 5.6. The grays are mostly accurate, cyan probably the most distant from the truth.
There is a proprietary mode for enhancing photos in the gallery, called LumiFlex, which we found to be working in other apps as well. It dynamically alters contrast based on the content on the screen. While the premise is nice, in practice we found it to perform quite inconsistently.
The standard DeltaE 2000 deviation is used to describe the accuracy of the screen's color rendition. We test the screen with a set of over 100 different color and grayscale patterns to determine the accuracy of the color reproduction.
Even when a phone's screen color reproduction is off, you would still have a hard time noticing a color cast without a reference as the human eye is quite quick to adjust and normalize colors.
Also, the display colors are a matter of personal taste and perception so consider this test data only if you are concerned about presenting color-critical content on the mobile screen.
Any deviation above DeltaE 2000 of 10 is considered a highly visible error in color reproduction on the display. A DeltaE 2000 deviation between 4 and 10 is considered okay or acceptable color performance. A DeltaE 2000 deviation below 4 is considered good, but professional color calibration requires a deviation between 1 and 2.
It's out in the sun that the Liquid X2 doens't fare all too well. Its result is better than the Zenfone Selfie that we tested, and similar to the Zenfone 2 ZE551ML and the Xiaomi Redmi 3. The Moto X Play is miles ahead, but that's one of the better-scoring non-AMOLEDs in our test.
Sunlight contrast ratio
Samsung Galaxy S6 edge+
4.615
Samsung Galaxy E7
4.485
Samsung Galaxy S7 edge
4.439
Samsung Galaxy S7
4.376
HTC One A9
4.274
Samsung Galaxy A3
4.241
Samsung Galaxy S6 edge
4.124
Samsung Galaxy Note5
4.09
Huawei Nexus 6P
4.019
OnePlus X
3.983
Oppo R7s
3.964
Samsung Galaxy A7 (2016)
3.918
Samsung Galaxy A5
3.895
Samsung Galaxy J7 outdoor
3.879
Samsung Galaxy J2 outdoor
3.873
Samsung Galaxy A8
3.859
Apple iPhone 6
3.838
Microsoft Lumia 950XL
3.837
Samsung Galaxy A9 (2016)
3.817
Motorola Moto X (2014)
3.816
Samsung Galaxy A5 (2016)
3.789
Apple iPhone 6s
3.783
Meizu Pro 5
3.781
Microsoft Lumia 650
3.772
Oppo F1 Plus
3.709
Vivo X5Pro
3.706
Apple iPhone SE
3.681
Samsung Galaxy A7
3.679
BlackBerry Priv
3.645
Apple iPhone 6s Plus
3.53
Acer Jade Primo
3.521
Microsoft Lumia 950
3.512
Oppo R7 Plus
3.499
Samsung Galaxy J7
3.422
Meizu MX5
3.416
Oppo R7
3.32
Samsung Galaxy J2
3.235
Motorola Moto X Play
3.222
Huawei P9
3.195
Lenovo Vibe Shot
3.113
Motorola Moto X Force
3.105
LG Nexus 5X
3.092
Huawei Mate S
3.073
Microsoft Lumia 640 XL
3.065
Apple iPhone 6 Plus
3.023
Samsung Galaxy Note
2.97
Huawei Mate 8
2.949
LG G5
2.905
HTC One S
2.901
Sony Xperia Z5
2.876
Microsoft Lumia 550
2.851
Sony Xperia Z5 compact
2.784
LG V10
2.744
Xiaomi Redmi 3
2.735
Sony Xperia M5
2.69
Vivo V3Max
2.659
Xiaomi Mi 4i
2.641
Xiaomi Mi 4c
2.574
Microsoft Lumia 640
2.563
Oppo F1
2.528
Sony Xperia Z5 Premium
2.525
Sony Xperia M4 Aqua
2.503
Motorola Moto G
2.477
Lenovo Vibe K5 Plus
2.473
Huawei G8
2.471
Sony Xperia Z
2.462
Huawei Honor 7
2.406
ZUK Z1 by Lenovo
2.382
HTC One M9
2.334
HTC One E9+
2.305
Alcatel One Touch Hero
2.272
Lenovo Vibe K4 Note
2.254
Sony Xperia C5 Ultra
2.253
Xiaomi Redmi Note 3 (MediaTek)
2.249
Sony Xperia C4 Dual
2.235
Motorola Moto G (2014)
2.233
LG Nexus 5
2.228
Huawei P8
2.196
Xiaomi Redmi Note 2
2.166
OnePlus Two
2.165
HTC One X
2.158
Asus Zenfone 2 ZE551ML
2.149
LG Aka
2.145
Archos 50 Diamond
2.134
Xiaomi Redmi Note
2.119
Acer Liquid X2
2.084
Huawei P8lite
2.078
Moto G 3rd gen max manual
2.026
Sony Xperia E4g
1.972
OnePlus One
1.961
Meizu m2 note
1.892
BlackBerry Leap
1.892
HTC Butterfly
1.873
ZTE Nubia Z9 mini
1.759
Sony Xperia U
1.758
Asus Zenfone Selfie
1.68
Motorola Moto E (2nd Gen)
1.675
ZTE Nubia Z9
1.659
Motorola Moto E
1.545
Sony Xperia M
1.473
Xiaomi Redmi 2
1.311
Sony Xperia C
1.283
Meizu MX
1.221
Connectivity
The Acer Liquid X3 is a triple SIM device, so you have flexibility in terms of carriers and plans. The three microSIM compartments are under the rear cover and they all get 2G connectivity. Only one card gets 3G/4G, but you don't need to worry about it when putting the cards in - the networks are managed in the options menu.
Additionally, the cards are not active at the same time. If you're taking a call on one card, and someone rings you on another, the call would just be forwarded to the active SIM card which may or may not be what you'd like depending on your usage case.
Naturally, you get Wi-Fi, but it only operates on the 2.4GHz band, and there's no Wi-Fi ac. There's GPS with A-GPS, Bluetooth v.4.0, and an FM radio receiver, but no NFC.
Wired options include a microUSB port and a 3.5mm jack. The microUSB port can be used to attach an external accessory as it supports USB On-The-Go.
Acer Liquid X2 battery life
Under the rear cover of the Liquid X2 you'll find a large, flat 4,020mAh battery. It blocks access to the SIM cards, so you may need to pop it out quite often. The capacity is pretty generous, and well above the competition, but then again, it needs to be in order to keep all those radios running.
Indeed, the Liquid X2 proved to be a dependable performer in terms of battery backup. In both tests where the display stays on, the smartphone is good for a little less than 13 hours - excellent numbers. What's not as impressive is the endurance in 3G voice calls, but even so, upwards of 15 and a half hours should still be more than enough for even the busiest days.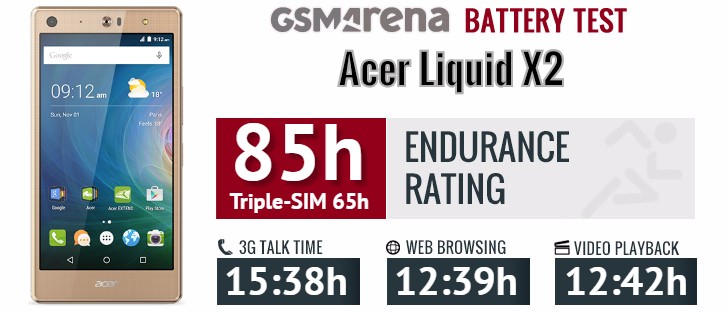 We do measure standby battery drain, and even though it's not included explicitly in the scorecard, it has its influence on the overall rating. In the case of the Liquid X2, having three SIMs inside inevitably takes its toll, and the otherwise excellent 85h endurance rating gets a 20-hour hit when you put all cards inside - still acceptable.
An Asus Zenfone 2 ZE551ML lasts virtually the same on a call, but is otherwise no match for the X2 with around 8 hours on the web and half an hour more of video playback. The Lenovo Vibe K4 Note outlasts the Acer model by more than 3 hours of talk time, but again, its 9 hour score in the two other tests is far from what the X2 is capable of.
The battery testing procedure is described in detail in case you're interested in the nitty-gritties. You can also check out our complete battery test table, where you can see how all of the smartphones we've tested will compare under your own typical use.