Sony's mobile division has been pretty quiet since it launched the Xperia 1 III in late August – it finally got around to making the Xperia 5 III available in stores and it quietly unveiled an Xperia 10 III Lite in Japan. But now there's a surprising sign of activity.
There is a new Xperia product announcement set for October 26, that's the Tuesday two weeks from now. What will Sony announce? A phone clearly, the Xperia branding is front and center.
But it's way too early for the Mark IV phones, Qualcomm hasn't even unveiled the new Snapdragon chipset yet. Plus, the Mark III series only recently made it to market. A mid-ranger then? It's possible, but as evidenced by the modest reveal of the 10 III Lite, mid-rangers aren't exactly cause for a big, flashy event.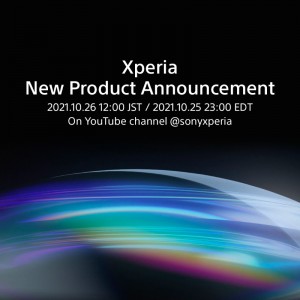 Sony Xperia has an exciting product announcement scheduled for October 26
So, we're left scratching our heads. We scrubbed through past reports about Sony's mobile division, but there are no rumors of upcoming phones. The company is busy with the PlayStation, headphones, mirrorless cameras, etc., but there's nothing about a new phone.
Well, in a couple of weeks we will do something we haven't done in a long time – watch a phone get unveiled without already knowing everything about it (that's not going to be the case with the Pixels, for example, which are coming next Tuesday).
K
İt may be battery died. No one can force anything. You wrong. I ve got older sıny still works.
J
well it really suck they don't listen to community, instead of compact one hand phone they made flagship that Noone would buy, even with best hw they lack at sw side so sales would suck
J
1. A power audio phone. Something like the Sony Walkman, with quad dac with even using ess or cirrus chip. 2. A super compact phone. 5.5 or even 5", but with power cameras, other decent specs for everyday normal usage 3. A Sony tablet!
ADVERTISEMENT